*blog... kind of... *rss
svg tag + audio tag = 3D Waveform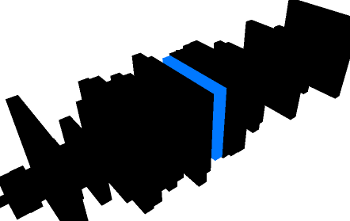 As always, you just need a bit of practice with a language to start using it in nice ways. Now that I had that little 3D engine working and with the <audio> around, it was time to produce an idea I always had in mine. A 3D interpretation of a waveform.
I'm sure the first thing you would think after checking this experiment would be...
What? I didn't know I could analyse the sound signal with the <audio> tag?!
... Well, you can't, if you check the source code (*hint* right click -> view source) you'll see an array of numbers. These are all the sound level values of the waveform at 30 fps.
I got these values using the library BASS for linux. Unfortunately, my C skills aren't so good (example) and I can't seem to control how to get the values exactly at the fps I want without getting desyncronisations. The first part of the visualisation is spot on, but by the end things aren't that impressive. I'll keep researching on this and update a new array of values whenever I crack it.
Dean McNamee
showed me the way. Forget C and BASS. All you need is
python
, the tune in .wav and 23 lines of magic.

# python script.py audio.wav > output.txt

import math
import struct
import wave
import sys

w = wave.open(sys.argv[1], 'rb')
# We assume 44.1k @ 16-bit, can test with getframerate() and getsampwidth().
sum = 0
value = 0;
amps = [ ]

for i in xrange(0, w.getnframes()):
	# Assume stereo, mix the channels.
	data = struct.unpack('<hh', w.readframes(1))
	sum += (data[0]*data[0] + data[1]*data[1]) / 2
	# 44100 / 30 = 1470
	if (i != 0 and (i % 1470) == 0):
		value = int(math.sqrt(sum / 1470.0) / 10)
		amps.append(value)
		sum = 0

print amps

I've updated the experiment with the new values; now is perfectly in sync all the time. Which makes you appreciate the little sounds at the end much more. Thanks Dean!
As you'll see on the source code, the rest is very simple. Create a couple of cubes, place them one in from on each other, and modify their scaleY depending on the waveform they are related to in that step.
The end result is quite interesting I think and I hope doing more like these. Hopefully more interactive next time.
The factor that turned this from just a nice experiment to an awesome was the fact that the
eedl
guys allowed me to use their (great) tunes for my experimentation.
Thanks once again!
23 comments
*profile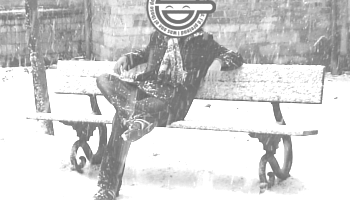 traditional id:
Ricardo Cabello Miguel
based in:
Barcelona, Spain
more:
github
,
twitter
,
twitpic
,
soundcloud
and
flattr
*post nav
Blobs Redux
Making of Starbucks Love Project
Branching is fun.
Setting up Ubuntu 9.10 on a Eee PC 1101HA
Eaze
svg tag + audio tag = 3D Waveform
More and more Javascript
I'm a Windows... ssss... sseven! ... PC...
Decent SVN Client for Ubuntu / Linux
Mr.doob left Hi-ReS!
60fps' Cube Clock