*blog... kind of... *rss
Being a proper British, Part 1: The tea
Also called the magic beverage (by my ex-workmate
Jonathan Clarke
), the
tea
has been one of those things with took me more time to get used to (almost 3 years). I never liked it, tried it before in Spain, and wasn't able to like it as was something like water with a little bit of taste of something. I remember always saying "no, thanks, I hate it" whenever anyone at
Spring
asked if anybody wanted one done. I tried one as they add Milk on it and they said it was going to taste different, but I wasn't able to finish it.
But some months ago, I decided to stop being picky with everything. Now I can eat any kind of food (even vegetables ;). So in that new period I also said "yes please!" when
Ben Messinger
asked to the team. And guess what?! This time I found something on it. So I started to accept it more and more. And I end up really digging it. Some weeks ago,
Lisa O'brien
(also a workmate) teached me how to do it. So thanks to her I'm doing now this post. Thanks to all of them actually.
Now you laugh (cos I usually don't do that kind of stuff..)...
HOW-TO MAKE A BRITISH TEA IN 10 EASY STEPS

STEP 1: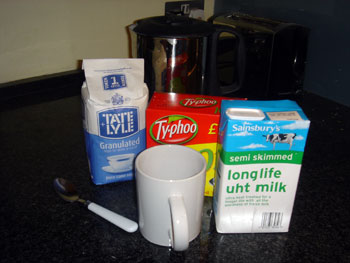 You'll need all these. So if you don't have something, go buy it! (Cup, spoon, sugar, tea sackets, milk).

STEP 2: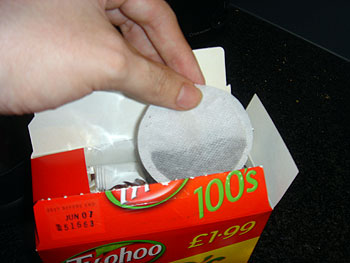 Use you clean hands to get one sacket. I think this step is easy enough.
STEP 3: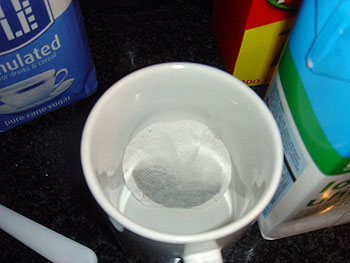 Put the sacket inside the cup. The result may look something like in the picture.
STEP 4: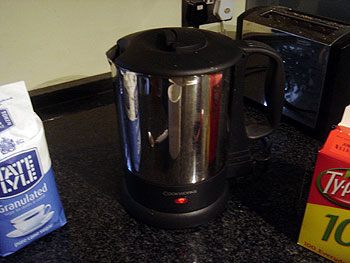 Put some water inside the boiler and use the activation button. It may do some sounds.. Wait until the activation button deactivates.
STEP 5: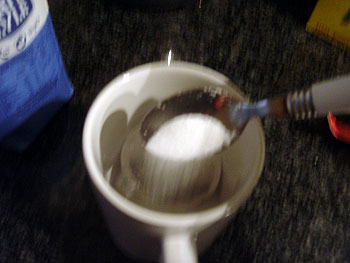 But hey! you can do things meanwhile the water gets hot. You can put some sugar in the cap. I use to have 2, but there is people that doesn't want any or just 1.
STEP 6: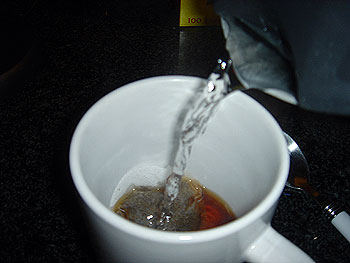 With the sacket in the cup, and the sugar, and also with hot water ready we can just put some water in the cup now. Be careful, is hot! Lots of kids go to Walk-in Urget hospitals everyday because they throw each others boiling water (that's what happens when you got an automatic machine that boils water, in Spain that doesn't happen). So yeah.. be careful!
STEP 7: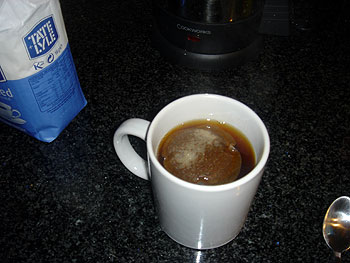 You have to reach more or less the level that you see in the picture. Leave a little bit of room for the milk! Use the spoon to stir the tea sacket and the sugar a bit.

STEP 8: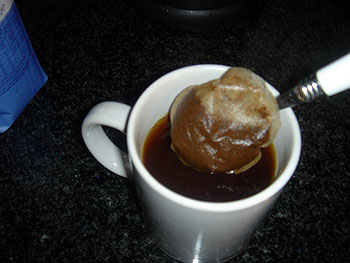 When you get tired of that mechanical and boring movement, just use the magic spoon to get rid of the sacket. Throw it to the bin. Any bin.
STEP 9: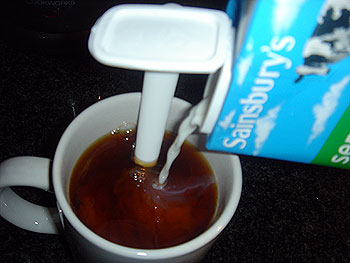 So, until here, we have more or less a "normal" tea, what we need now is the english touch. Just add a bit of milk.
STEP 10: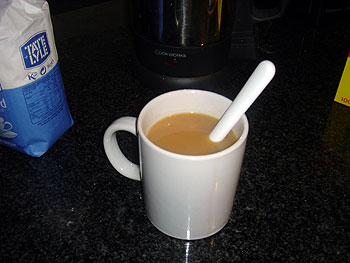 Not too much, the result needs to have a colour like the one in the picture.
And here you go! You can drink it anytime, not only at 5o'clock.


........................................................

And If you had enough patience to wait until here, there is also an
extra gift
...
Today in my way home I went to a normal/arabish shop where I found these things: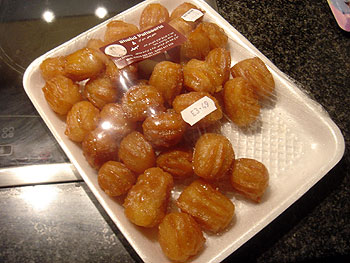 The texture was very similar to
Churros
so I really wanted to get some and try them. But far from the reality, it doesn't taste like churros, they, in fact, taste like our
Pestiños
tho are smaller and less honey-ish.
Heh.. in the next issue.. I don't know, what do you guys want to know? :)
13 comments
*profile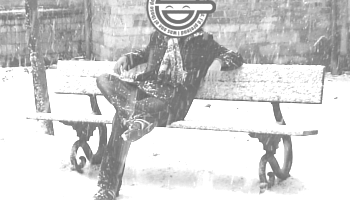 traditional id:
Ricardo Cabello Miguel
based in:
Barcelona, Spain
more:
github
,
twitter
,
twitpic
,
soundcloud
and
flattr
*affiliations
60fps
,
escena.org
and
xplsv.com
.
*input
friends
aaron koblin
abscondorium
blackpawn
campbell imray
cardboard robot ninja pirate monkey
carlos ulloa
david o'reilly
diego f. goberna
iñigo quilez
jare
jesse kanda
jorge fuentes
kile
mike tucker
nanika
nuende
tnghm
unit zero one
vadik marmeladov
zafio
zeh fernando
art
8bit today
build
cocos' island
flight404
hairy teeth
hi-res!
neave
nulla dies sine linea
patecreme
postspectacular
quel solaar
siggi eggertsson
tha.ltd
today and tomorrow
united visual artists
vvork
yugop
dev
andre michelle
alternativa
antti kupila
away3d
boostworthy
broken blog
bytearray
den ivanov
der schmale
drawlogic
fladdict
flash video
general relativity
gskinner
hidiho!
joa ebert
john grden
kaourantin
keitap
less rain
li
michael battle
nulldesign
papervision3d
pengin.swf
photon storm
pixelero
polygonal
quasimondo
sandy
saqoosha
sephiroth
simppa
tom.drastic.net
uve producers team
zero point nince
zupko
music
hunz
ochre
ronny pries
humour
wulffmorgenthaler
xkcd