*blog... kind of... *rss
Making of The Johnny Cash Project
And you may be wondering, where does all this thing about drawing tools come from? Good question!
Although I've always had interest on developing a drawing application, it all started when
Aaron Koblin
asked me if I would be up for developing a drawing tool for a
Johnny Cash
homage project he was planning with
Chris Milk
. I think this was about 6 months ago, even before the
Startbucks Love Project
(where an alpha version of the drawing tool was used).
Before passing away in 2003,
Johnny Cash
recorded one last album which was never released, until now. The idea was to build a platform where everyone would be able to draw a frame for the musicvideo for one of the tunes.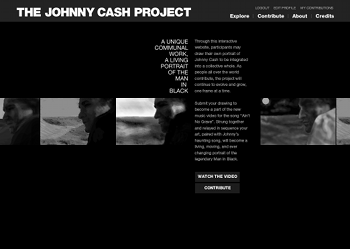 The website (front-end and back-end) was built by
@radical.media
so my work on it gets simplified to the repainter and painter system.
Repainter
One of the requirements for the drawing tool was to record how the frame was being drawn so the visitor on the site could see a timelapse. For example, here is a drawing I did: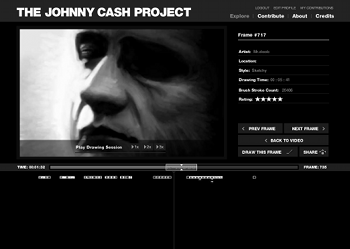 There is small aspect ratio bug on that one, but you get the idea...
Doing this took a bit of time, but luckily I had learnt a few tricks some weeks before after trying to port the
Colors! Java Repainter applet
to AS3.
Creating a file format turns out to be quite simple. Just a matter of deciding a few tags (size, color, opacity, position...) and deciding how many bits you need for each value. For instance, I have STROKE_START which has the id 4, we do
bytearray.writeByte(4)
and then we save the positions of the mouse, but because these values can be bigger than a byte (256) we need to use int
bytearray.writeInt(x)
and
bytearray.writeInt(y)
. We do the same for the rest of data and at the end we use
bytearray.compress()
which is pretty much a zip. The end result is a very simple and optimised file format, faster to parse than a xml and much smaller.
Having a hexadecimal editor is a must here (I used
GHex
). Here is a screenshot of how the uncompressed file format looks like: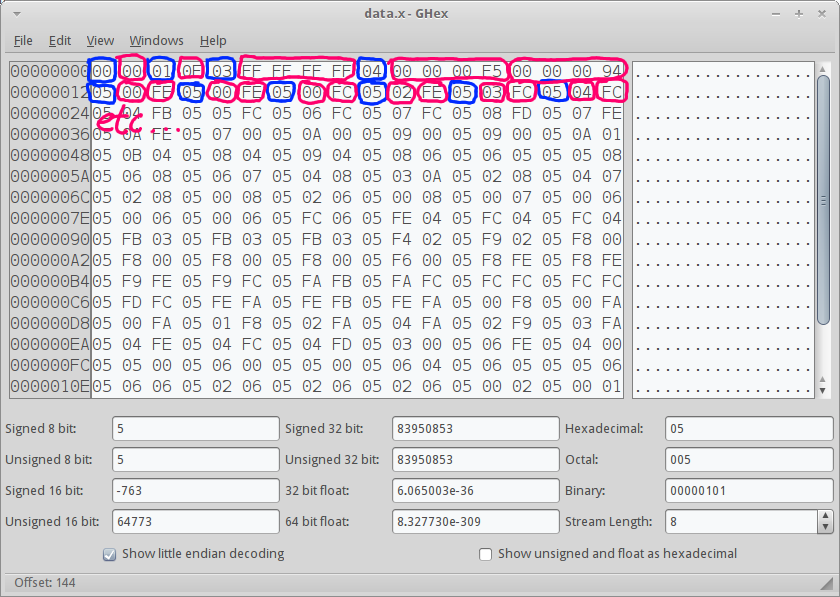 If you know about file formats, I'm sure you already know what's going on, otherwise there you have a quick challenge for lunch time ;)
Painter
Having the file format sorted out I "just" had to develop the drawing tool itself. This may sound an easy task but, starting with the
premultiplied alpha nightmare
(
more info
) it has a bunch of little challenges... undo/redo, custom brushes, zoom, panning, brush outline... it just takes its time.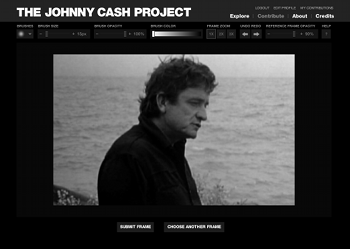 Using the original frame of the video as onion skin we can get nice results in a few minutes.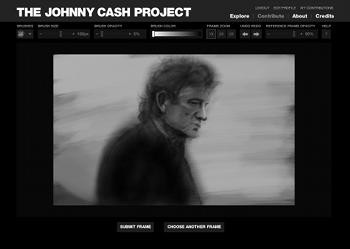 Now I can't wait to see how the project evolves and hopefully seeing the video without missing frames soon!
16 comments
*profile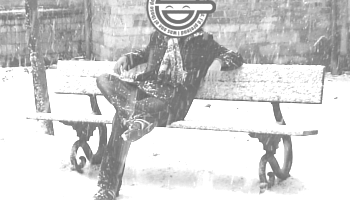 traditional id:
Ricardo Cabello Miguel
based in:
Barcelona, Spain
more:
github
,
twitter
,
twitpic
,
soundcloud
and
flattr
*affiliations
60fps
,
escena.org
and
xplsv.com
.
*input
friends
aaron koblin
abscondorium
blackpawn
campbell imray
cardboard robot ninja pirate monkey
carlos ulloa
david o'reilly
diego f. goberna
iñigo quilez
jare
jesse kanda
jorge fuentes
kile
mike tucker
nanika
nuende
tnghm
unit zero one
vadik marmeladov
zafio
zeh fernando
art
8bit today
build
cocos' island
flight404
hairy teeth
hi-res!
neave
nulla dies sine linea
patecreme
postspectacular
quel solaar
siggi eggertsson
tha.ltd
today and tomorrow
united visual artists
vvork
yugop
dev
andre michelle
alternativa
antti kupila
away3d
boostworthy
broken blog
bytearray
den ivanov
der schmale
drawlogic
fladdict
flash video
general relativity
gskinner
hidiho!
joa ebert
john grden
kaourantin
keitap
less rain
li
michael battle
nulldesign
papervision3d
pengin.swf
photon storm
pixelero
polygonal
quasimondo
sandy
saqoosha
sephiroth
simppa
tom.drastic.net
uve producers team
zero point nince
zupko
music
hunz
ochre
ronny pries
humour
wulffmorgenthaler
xkcd